The pandemic really took its toll on the film and media industry. Music and events were wiped out completely, which was a significant hit for me personally as not only is that my primary field of work but work that I have a whole ton of fun doing. This is where my man Matt Owens came through with the idea of shooting a series of videos for his new album at the Bath Forum whilst it was closed due to lockdown. The aim was to mark what happened in lockdown whilst at the same time avoiding making lockdown the focus and it ending up being a depressing, time-stamped reminder of a couple of years everyone would rather forget. The videos included "Cargo for the Road", "I Will Be There" and the final being a 25-minute performance that streamed on the BBC as part of their Airwaves Festival. Reaching the end of restrictions and with the sun coming out Matt calls me up as usual and says he needs a video for his next single "Cactus Flowers" and he needed it in a week!

Concept
So right away I throw on the track and extract from it different imagery and themes such as plants, sunlight and the freedom of open country roads. The cactus is particularly interesting visually due to the plant's geometric structures and also because certain cactuses, such as peyote, are supposed to produce a psychoactive effect when eaten. In short – cactuses allow you to get trippy. There is also a natural pairing of summer music videos and regions where cacti and palms are native such as California and Spain, so to get that summer vibe I wanted to inject a little taste of the palm-lined avenues of Beverly Hills and also a nod to the work of Spanish culture and architect Antoni Gaudi whose work includes the Sagrada Familia in Barcelona, one of most incredible buildings I've ever been inside of, where kaleidoscopic crystalline natural structures are formed from non-organic material such as stone with pillars representing tree trunks etc… And so the concept was a video combining performance with the feel of Beverly Hills, paired with trippy visuals of the open road.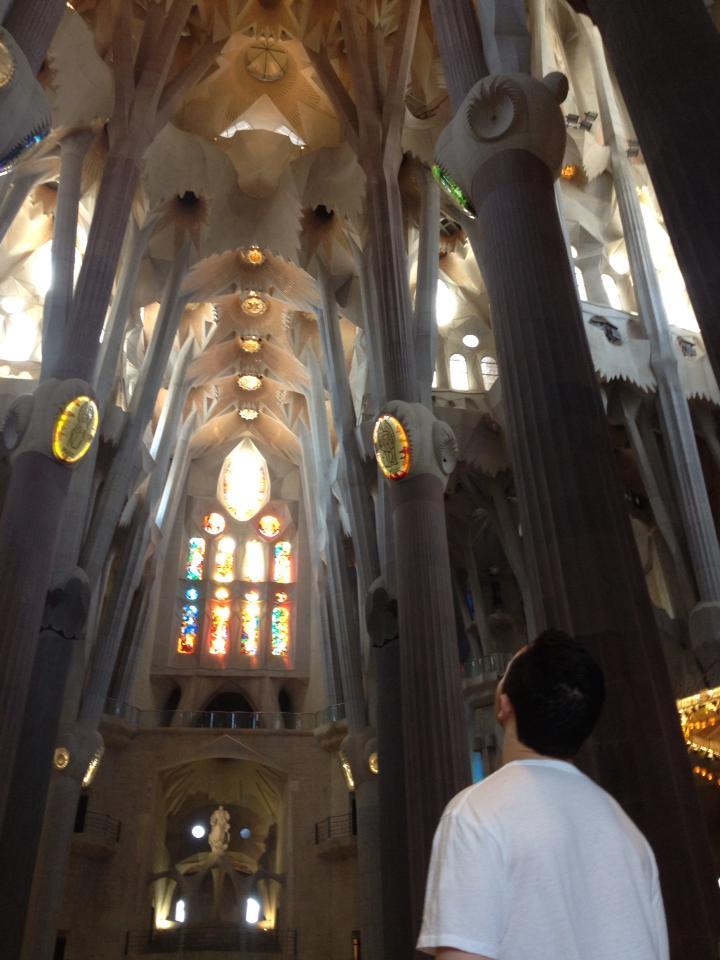 Pre Production
If we had the time and budget maybe we'd have filmed in Beverly Hills or Barcelona but as that was not the case I scouted out a very specific location at the botanical gardens in Bath where Matt could be positioned to be framed with yuccas and palms in both the foreground and background giving the illusion we were filming somewhere more exotic. I also had in mind that I would employ mirror and kaleidoscope effects in editing to abstract the visuals to achieve the desired trippy and symmetrical effects. Our storyboard guy Zach Ashton then went to work to sketch together both sequence and master shots. All that was left was to watch the weather forecasts and wait for a break in the clouds.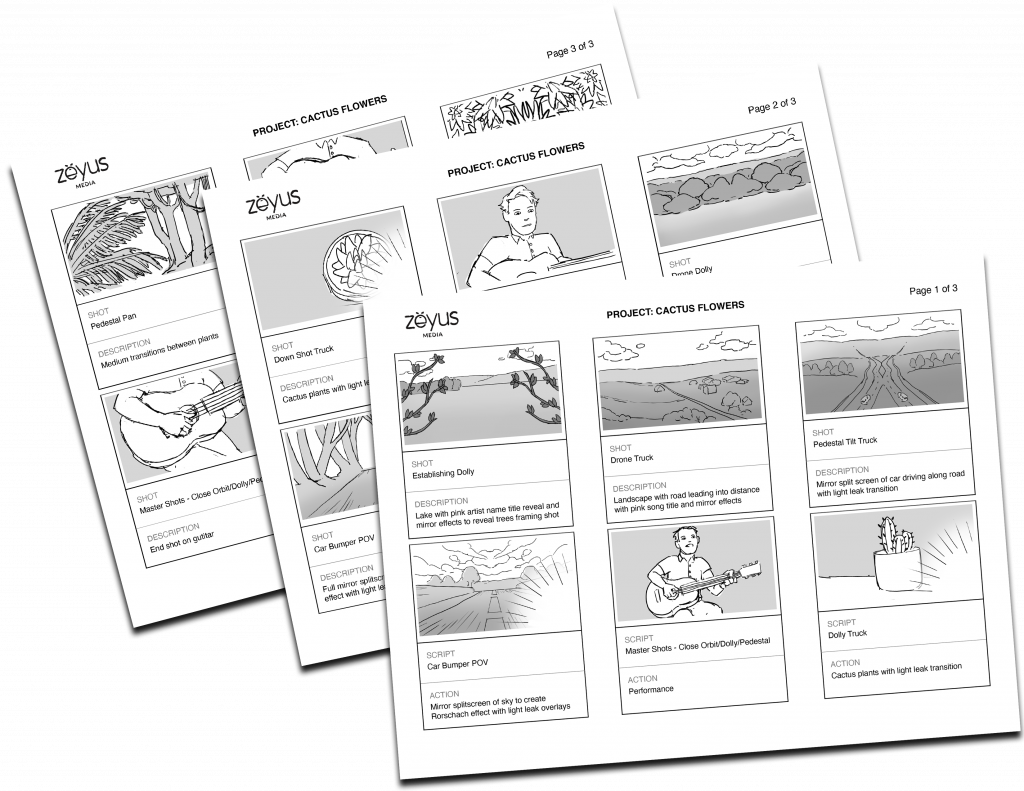 Production
We met at Matt's house to capture a few shots of the cactuses he had to act as counterpoints between sections of the video. We then headed over to the park where the weather had cleared out just long enough to capture a performance under a clear blue sky. On location, a Bluetooth speaker is used for playback for the artist to mime to and the performance is recorded a handful of times to capture all master shot angles and give options in editing. I then spent a little extra time afterwards to capture b-roll of the various palms and desert plants.
For open roads – again, within the limitations, the best location I had were the roads leading to Chew Valley Lake in Bristol and hope the weather gave me some decent light. I have experimented before with sticking cameras to cars but found that if you really want to get the most sense of speed you need to get as close to the road surface as possible. Unfortunately, my sucker mount would have nothing to hold onto that low down so the only solution was good old vinyl tape and sticking a GoPro to the bumper. This kind of shot is exactly what GoPros are designed for with the ultra-wide angle they offer. Plus they are robust enough that if something were to happen it would have a good chance of surviving at least enough to recover any footage.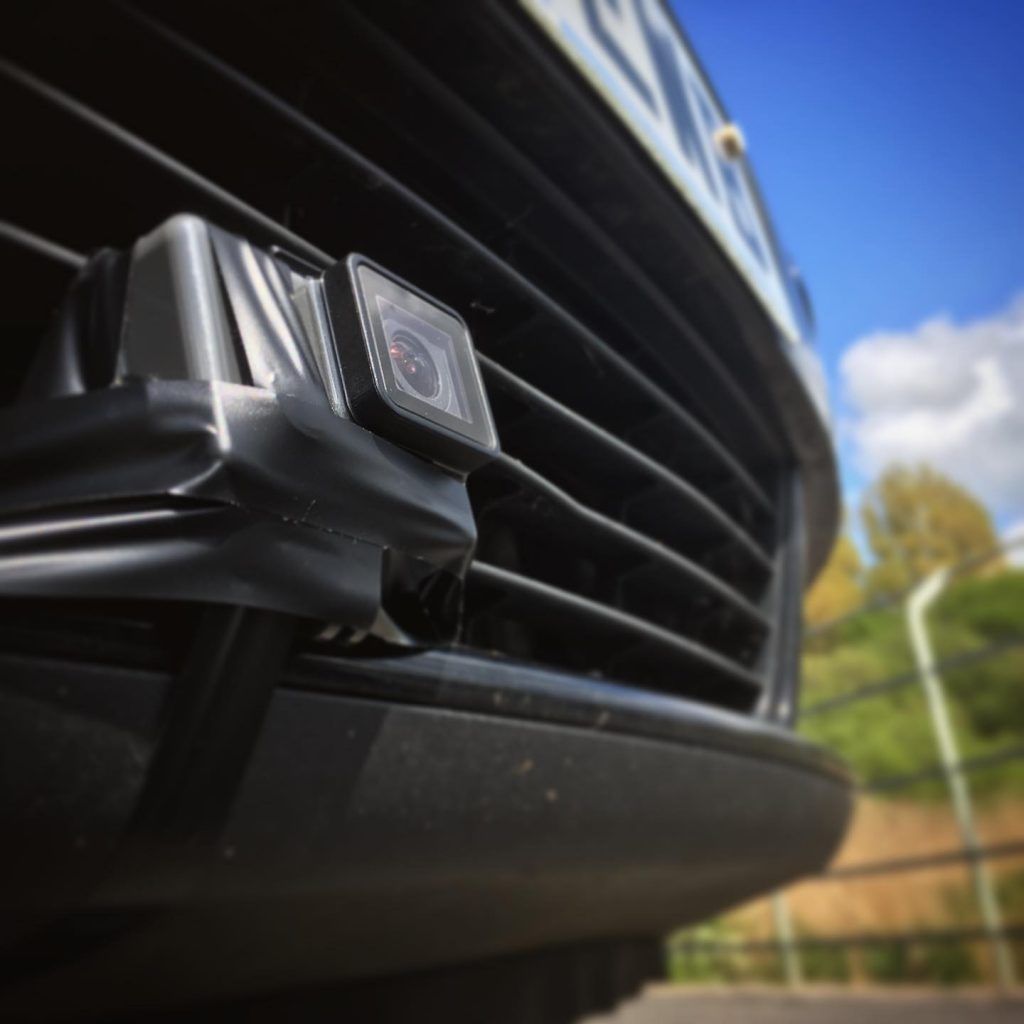 Nothing gives a sense of freedom and escape like a drone over sparkling open water so I took the Mavic 2 Pro out over the lake mindful not to distress any of there local wildlife. However, unlike the reservoir I'd filmed in Wales a few weeks prior that was surrounded by beautiful mountain forests, this lake and its surroundings looked flat and dull from pretty much every angle and the water was so still that there were no waves or anything contrasting. Gratefully however I got the break in the clouds I had hoped for and the footage I did capture had a nice clarity to it which would prove beneficial in editing.
Post Production
I began the edit process by synching the performance shots with the studio track. This would form the biscuit base of what I like to call the "cheesecake" method of having something solid and reliable underpinning the entire video and then building on top. Next was to add in the sequence features such as the opening frame and the various shots used to break up the verses from the chorus.
To get the Hollywood vibe I added a cine frame, film grain, leaks and burns, a look for which Lana Del Ray is very much the queen of the castle. The mirror effects also helped in this respect to repeat palm trees etc.. to give the feel of the palm lines avenues of Beverly Hills which would also provide inspiration for the title font and avocado and pink colour scheme. The additional and more abstract mirror effects, to the point of kaleidoscopic, would provide the Spanish/Ibizan feel as can be seen in recent videos like Dua Lipa's "One Kiss", which is full of Ibizan art.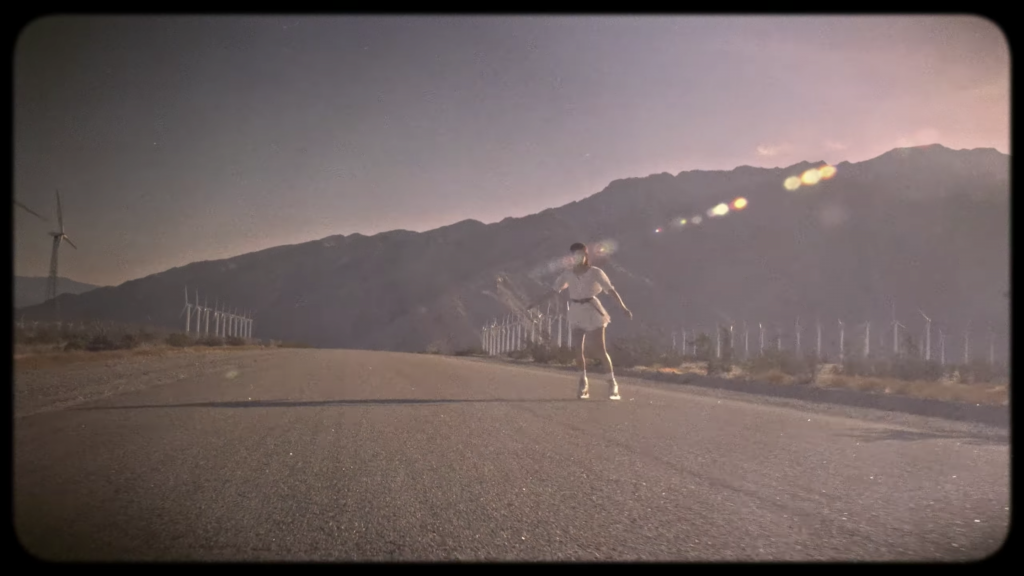 Creativity Through Limitation
I often talk about what I learned at university regarding minimalism and making something from nothing, often citing the practical work of Michel Gondry who has made some of the greatest videos of all time out of cardboard. Whilst limitation can be looked upon as not having the means to do something more extravagant, I often find limitation to be a huge driver for creativity simply due to the necessity to be creative – invention is the mother of necessity after all. I feel that with "Cactus Flowers" what is achieved through creativity within the bounds of the limitations, results in something that ultimately makes the video stand out from standard rock videos as something unique and special.